We are the Jeep, SUV, 4×4 Repair Experts!
No Cost Diagnostics and Free Transportation
Castle Rock's Jeep Repair Specialists
Wouldn't it be great to have a team of mechanics who understand your vehicle? Since 1974, the team at All American 4×4 has specialized in Jeep and 4×4 vehicle repairs. A 4WD vehicle has 4 wheels driven independently. The front and rear axles are synchronized so there is always at least one wheel on each of the drive axles that can be driven by the engine's power effectively.
Towing, hauling, and off-road use can put a strain on your vehicle. This can lead to unique mechanical problems. Wouldn't it be great to have a team of mechanics who understand your situation and your passion for weekend adventure?
Not only are our mechanics ASE Certified Master Technicians, we are owners of 4WD drive vehicles with decades of experience. We enjoy the same fun skiing and exploring the countryside of Colorado that you do. Serving the Castle Rock, Castle Pines, Castle Pines Village, Franktown, Kiowa, and Sedalia areas.
Castle Rock Four Wheel Drive Repair Experts
All American Four Wheel Drive and Auto Repair is the 4×4 repair expert for Littleton, Highlands Ranch, Castle Rock, Castle Pines, Castle Pines Village, Franktown, Kiowa, Sedalia and South Denver. We service all makes and models of SUVs, trucks, Jeeps, and cars. Our ASE certified mechanics and repair specialists have the experience to properly service your four-wheel drive vehicle.
Here are just a few things you can expect from us.
Quality – ASE Certified Master Technicians
100% Customer Satisfaction – is our most important goal
No Surprises – All prices must -be approved by you before any work is done.
Incredible Warranty 
Free Shuttle Service and Tow
Extended Warranty Work 
If you're looking for a complete automotive service center who provides bumper-to-bumper service for your auto repair needs, you'll appreciate our innovative approach and quality service. We look forward to serving you.
How is All American Four Wheel Drive
&

Auto Repair Different?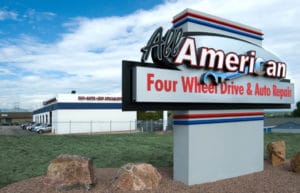 All American Four Wheel Drive & Auto Repair specializes in repair and maintenance of Jeep, SUV & 4-wheel drive cars and trucks. Not only that, but at our South Denver shop serving Castle Rock, customers regularly bring in all makes and models of vehicles for any type of auto service. The All American vehicle repair difference includes:
1. Castle Rock, Colorado's Top Jeep, SUV & 4×4 Repair Experts
Our auto technicians are some of the finest mechanics in the business. Our ASE Certified mechanics  are veterans of the auto repair industry with a passion for Jeep, SUV & 4×4 vehicles and have decades of experience on the line.
They work on experience and skill to analyze and repair the most complex auto repair issues. We work on experience and skill to diagnose even the most challenging engine problem accurately so that it's fixed right the first time.
2.   100% Free Diagnostics
When you bring your vehicle into our South Denver All American four wheel drive & auto repair shop, we will never charge you a penny to find out the problem.  We will let you know exactly what we find, and only fix what's needed.
3.   Hot Shot SUV, Jeep and 4×4 Parts Department
All American 4WD sources a huge variety of parts for all makes of cars and trucks, eliminating the tedious wait time that you would usually experience from other local shops.
4.   Specialty Offroad Jeep, SUV & 4×4 Tires
At All American 4×4, we not only service and maintain your vehicle, we are also experts at providing, installing and helping you choose the right tire for your needs.  From Goodyear to Nitto tires and specialty brands you can count on us
5. We Offer Free Transportation
The ride is on us to or from anywhere you need with our free shuttle service for all of Denver, Littleton, Castle Rock, Highlands Ranch and surrounding areas.
When your vehicle breaks down or isn't running right, we understand that it can be very difficult to get it into a shop, especially if you need to re-arrange schedules for your work, your kids and errands. That's why we offer a free customer shuttle to/from your place of business or home, and we also tow, pick-up or deliver your vehicle if needed. We can also book you a rental vehicle at a low corporate price.
6.  Towing of Your Vehicle
We use our own tow truck to get your vehicle into the shop in an emergency, call us to discuss your transportation needs at and let us take that worry out of your day.
7.  In-House Machine Shop
The number of Jeep repair shops that have full access to a complete in house machine shop are very few. This allows us to rebuild or refurbish your engine's parts on the spot, rather than you having to buy new replacements for damaged ones.
5-Star Review:
"All American Four Wheel Drive is fantastic. Their mechanics really know their stuff. It took them 5 hours to diagnose what was wrong with my truck and they did it for free! They also drove me to wherever I needed to go for free as well! Everyone is super helpful and friendly. I will never take my truck to any other place." Foster E., February 2019
Response from the owner of All American Four Wheel Drive:
"Foster, you are fantastic, too! Our 100% free diagnostics and 100% free transportation are an important service offering of ours and we are happy to be able to take care of you. Come back and see us anytime!"
With decades of Jeep repair experience, our customers stick with us because we offer honest, transparent quality work in Littleton, Highlands Ranch and serving Castle Rock and Castle Pines, Colorado.